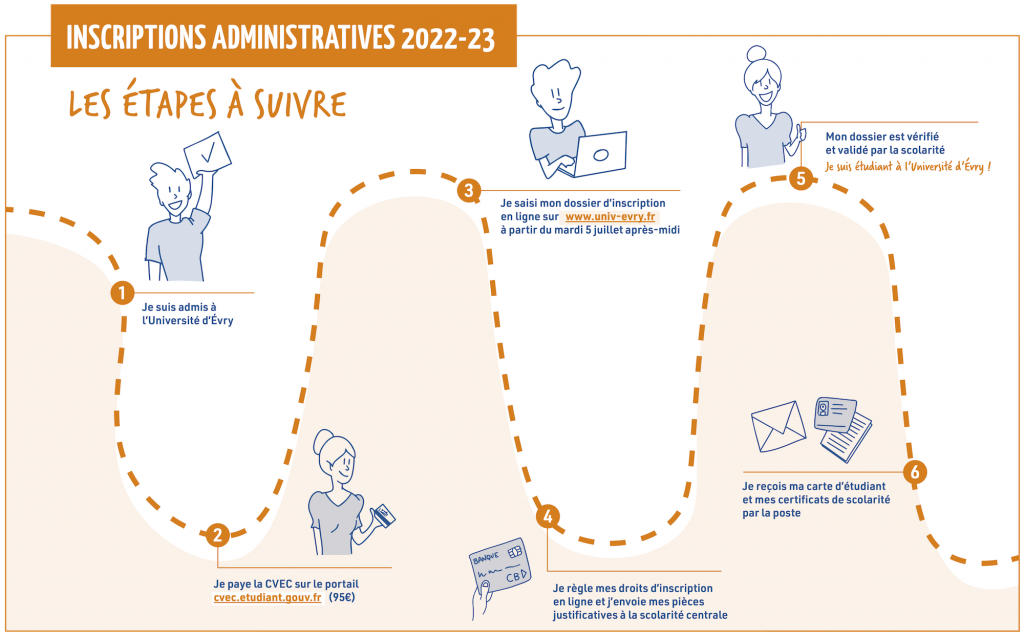 For 2022/2023 academic year, the registration at the University of Evry will take place between July 5th and July 21th then between August 22th and October 25th 2022.
Students whose application has been accepted will receive an official admission e-mail from the University Paris-Saclay containing a link for confirmation of their attendance.
A formal acceptance letter is provided upon request at contact (at) mssb (dot) fr
After attendance confirmation, the University of Evry will provide by e-mail the identifiers required for registration as well as all needed information depending of student's situation:
For more informations, visit the University of Evry website.
The list of required documents can be found here.
Foreign students must note that they have to provide their documents translated in French by a certified translator either at the French Embassy in their country (cheaper) or in France by a translator of the Court of Appeal of Paris.
Registration fees
2014-2015: 261,10 €
2015-2016: 261,10 €
2016-2017: 261,10 €
2017-2018: 261,10 €
2017-2018: 243,00 €
2018-2019: 243,00 €
2019-2020: 243,00 €
2020-2021: 243,00 €
2021-2022: 243,00 €
2022-2023: 243,00 €
The fees will be the same at the University of Paris-Saclay regardless of student nationality.
Social security
Social security is mandatory in France. The way of affiliation depends on student age and nationality:
Student and campus life contribution (CVEC) fee
2018-2019: 90 €
2019-2020: 91 €
2020-2021: 92 €
2021-2022: 92 €
2022-2023: 95 €
The CVEC must be paid every year on https://cvec.etudiant.gouv.fr/. If you register for several courses in the same academic year, this contribution is due only once. Are exempted from this contribution the Scholarship holders of higher education, Political refugees and Recipient of subsidiary protection.
The certificate of payment or exemption of the CVEC fee can be downloaded at the online platform. This certificate will be asked when proceeding at the administrative registration at the University.